The social media app displays a live feed of tweets, Instagram photos, Facebook posts, and Yelp reviews. Individual posts each appear for 15 seconds at a time. Each post will show the post's text, image (if applicable), username, and user icon.
Contents of this guide:
You can access the Social Media Wall by going to the Apps dropdown at the top of the screen from anywhere in the Enplug dashboard.
If you go to the Social Media Wall without selecting a display group first, you will see the Library view of all display groups in your account, and whether or not they have Social Media enabled.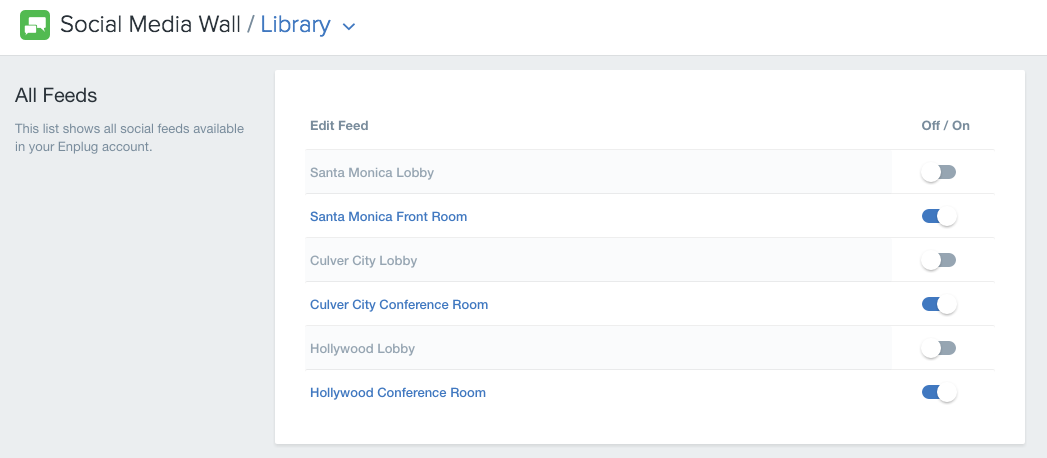 If the Social Media app is turned on for a display group, you can click that display group to view and change the settings. You will need to enable the Social Media app in order to make these changes. 
Setting it Up
The Social Media Wall works by using hashtags or accounts to pull posts into your feed. For example, if you add the Twitter hashtag "#enplug", all tweets that include that hashtag will be pulled into your feed.
Since each feed is a bit different, we've split them into sections to explain in as much detail as possible how to set them up. Please see the links below for detailed instructions on setting up each feed:
Viewing Posts
Once you have set up your feeds, you can view all posts by clicking the Posts button in the upper right corner of the page. In the Live column, you'll see all posts currently in your feed. Each of the 4 feeds can bring in up to 50 posts; when a feed brings in more than 50 posts, the oldest posts will be removed. This keeps your feeds up to date and relevant.
To interact with a post, hover over the post and click the arrow in the upper right corner of the post. You'll see options to Favorite the post, Delete it, or Delete the post and Ban the associated user. You can also view the post on the site of origin.
In the Favorited column, you can view all Favorited posts. You may Favorite up to 5 posts per feed, 20 in total. These Favorited posts won't be pushed out no matter how old they are - they will only be removed if you unFavorite or Delete them.
If you have Pre-Approval turned on for any of your feeds (learn more about Pre-Approval in this article), you will also see a third column labeled Needs Approval. This column lists all your posts that are pending your approval before they show up on the screen.
Settings
The Settings section is where you'll set up your social feeds, but it also includes other customization options for the app as a whole. Below the Feed Setup section is the Color Themes section, which will allow you to choose custom background colors for your posts.
To create a color theme, click the blue Create Theme button. From here, you can name the theme, then click each color icon to choose a new color to add to the theme. Add more colors using the "+" icon to the right of the colors, and the "-" icon to delete the most recently added color. Finally, press the Save button to save your theme to the list.
Below the color theme section is the Banned User section. This lists all banned users, including what social network they are from and links to view their profiles. Any and all posts from banned users will not show up on the display. If you need to un-ban a user at any time, you can use the Unban button to remove them from the Banned list.
Finally, there are the Pre-Approval and Profanity Filter sections. As these sections can get very detailed, we have split them into separate articles for easier reading. Please see below:
Analytics & Reporting
To get an idea of how your users are engaging with your display, click the Reports button in the upper right corner of the page. This will show your Influencers, those who are posting the most to your display, and a graph of your Interactions so that you can see exactly how many posts from each feed you are receiving per hour or per day.
If you would like to export your social interaction data as a CSV file, scroll to the bottom of the Reports page, where you'll see the option to Export Data as needed.
Tips & Tricks
Different feeds have slightly different timing for posts to show up. Twitter is the fastest, usually coming in almost instantly. Instagram may take 1-3 minutes for posts to show up. Facebook posts, because they're updated less frequently, get pulled in every 5-10 minutes. Finally, new top Yelp reviews are pulled in once a day.
Only public posts will show up on the Social Media Wall. If someone has a private profile, their post will not be pulled into the feed.