You can set up a Facebook feed via two apps:
Social Media Wall
Facebook
Note: The pages you wish to add to your Facebook feed must be Facebook Pages that the connected account is an admin on, to

appear in yo

ur setup process. In addition, this will display posts from the Facebook page added and not from any other source. 
Follow these steps to set up your Facebook feed:
Add a Facebook page:
To add your Facebook page, click Add Facebook Page 

The next window will list only Facebook Pages that are currently on your Facebook Account. If you have many pages, you can filter the list by using the search function. Use the radio buttons to select the page you want to add to your Facebook Feed, then click on Select.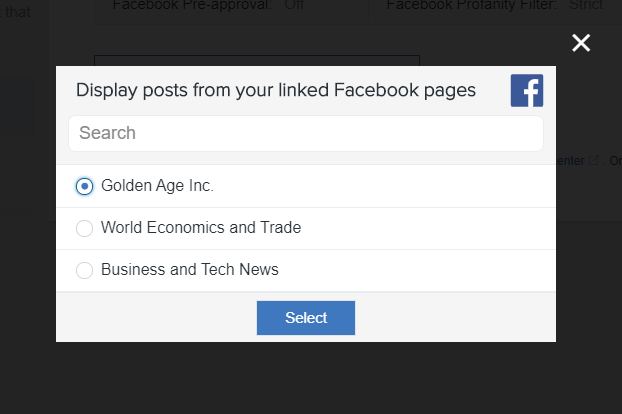 As with the other social feeds, your Facebook feed can display up to a max number of 50 most recent Facebook posts. Enplug isn't able to support:
Facebook Groups
Facebook check-ins
Links to news articles, blog posts or any other external site
Reviews
Videos
Photo album uploads
Mentions of your hashtag made on Facebook