Overview
To manage your Enplug account effectively, you may need to add other users to help manage the content for different locations.
We offer an advanced "User Roles" feature that allows you to group users by roles for streamlined management. Check out our User Roles article for more information.
Contents of this guide:
Display Group Permissions Description
Account Permissions Description
Accessing User Settings
When you log into your Enplug account you will be on the account home page, shown below. If you need to return to this page, click the Enplug logo in the top left corner of the dashboard.
Click on "Settings" button on the bottom left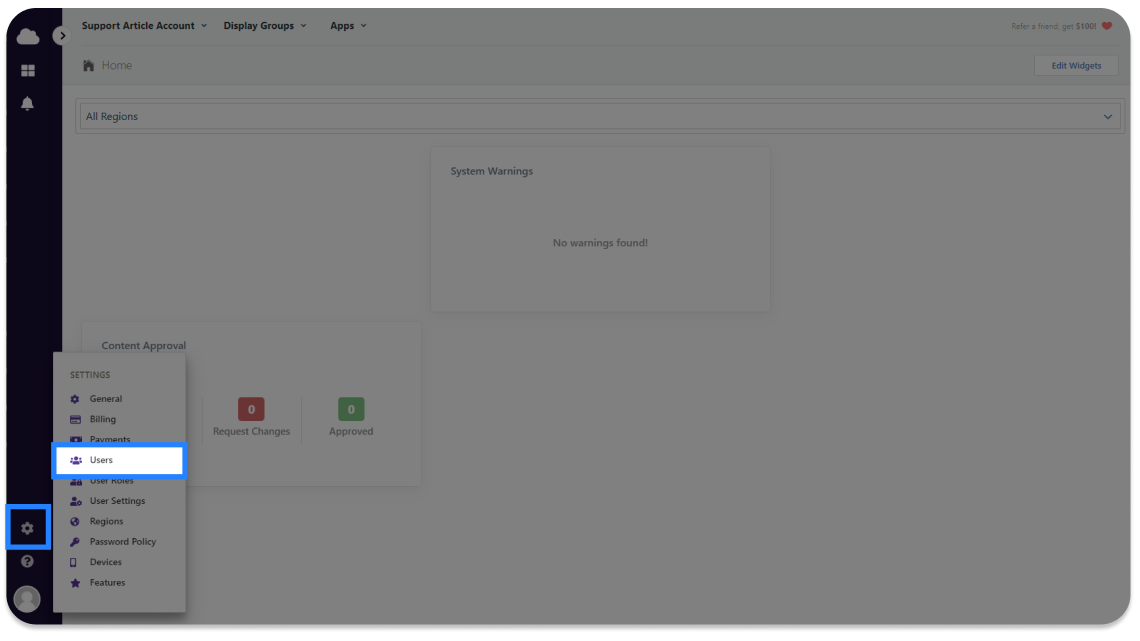 Create a User
To start creating a new user, select the "Add a person" button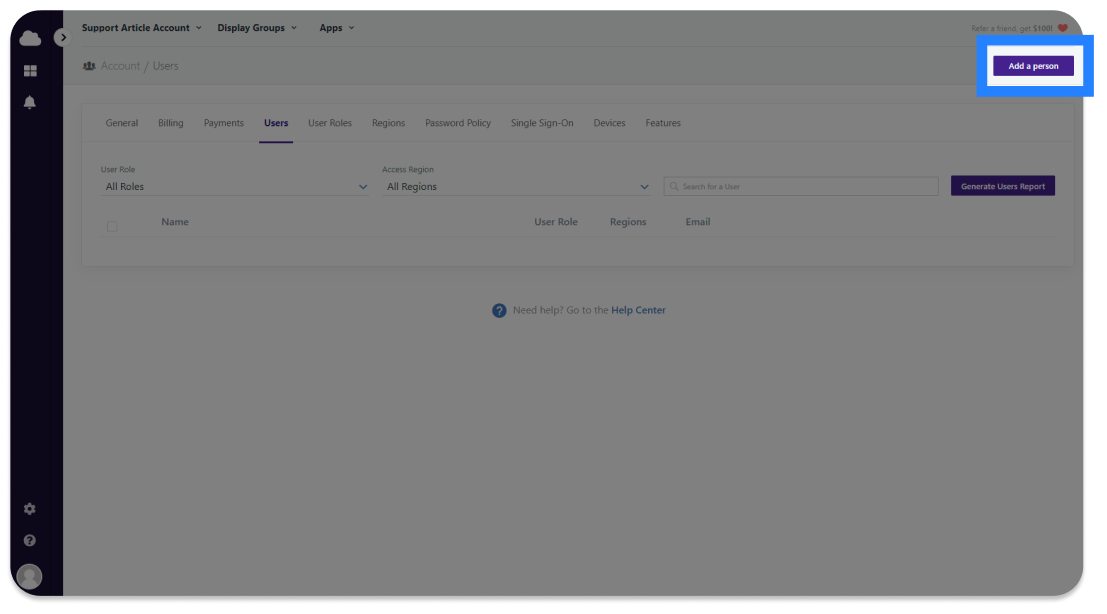 Enter the user's First Name, Last Name, Email, and Language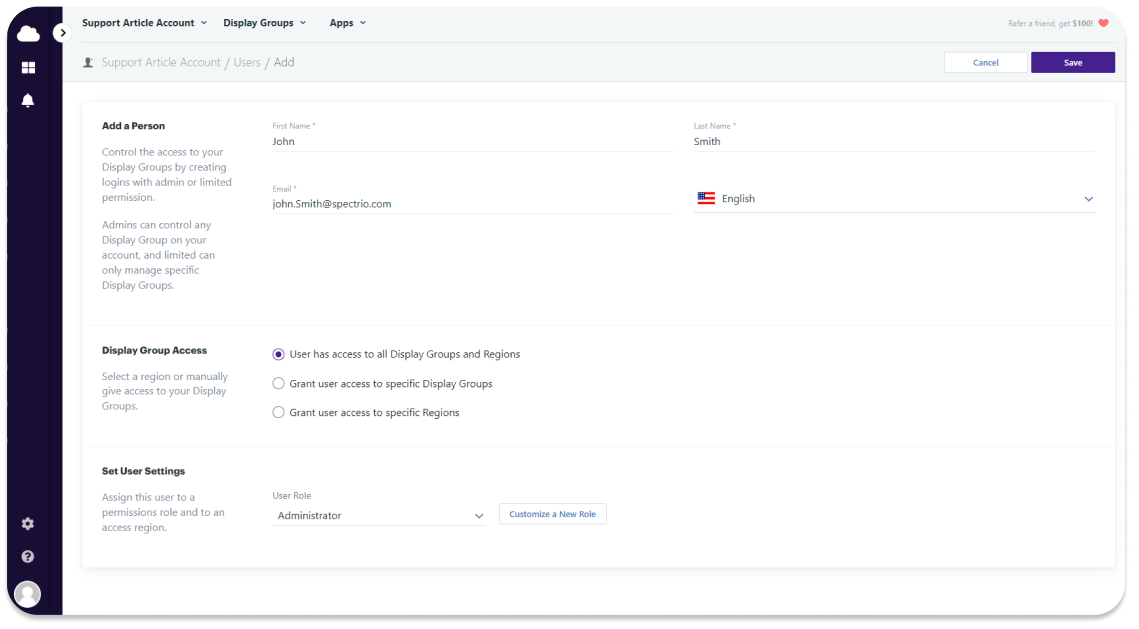 When creating a new user, they will have access to all Display Groups by default. If you would like to limit Display Group access, click the "Grant user access to specific Display Groups" radio button, then assign them the appropriate Display Groups
By default, new users will have no access to Display Group or Account level permissions, so they are unable to edit or manage content. Assign the permissions as needed. Continue on in this article for an explanation of each of the Display Group and Account permissions. At least one of the following needs to be selected in order to save the user: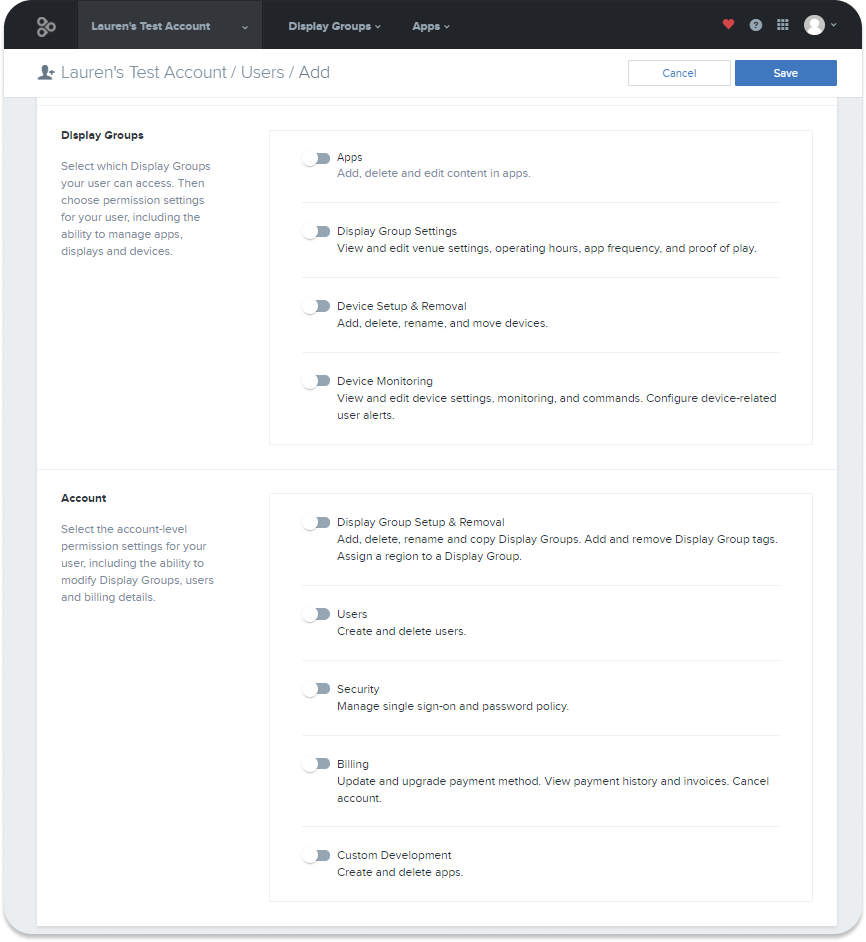 Finally, select "Save" to create the user. They will receive a welcome email with instructions to set their password

Display Group Permissions Description
Apps: Add, delete, and edit content in apps.

When enabled, all apps may be accessed by the user, by default
Check the "Limit Access to specific Apps" box to manage app access

Select the "Apps" button to add or remove apps for the user

Display Group Settings: View and edit venue settings, operating hours, app frequency, and proof of play
Device Setup & Removal: Add, delete, rename, and move devices
Device Monitoring: View and edit device settings, monitoring, and commands. Configure device-related user alerts
Account Permissions Description
Display Group Setup & Removal: Add, delete, rename and copy Display Groups. Add and remove Display Group tags. Assign a region to a Display Group
Users: Create, edit, and delete users and user permissions
Security: Manage single sign-on and password policy
Billing: Update and upgrade payment method. View payment history and invoices. Cancel account
Custom Development: Create and delete apps