Create User:
To manage your Enplug account most effectively, you may need to add other users to help manage the content for different locations.
To view the users who currently have access to your account, go to your account page by clicking your account drop-down in the upper right-hand corner, then click the My Account button. In the account view, click the Users tab to view the users currently in your account.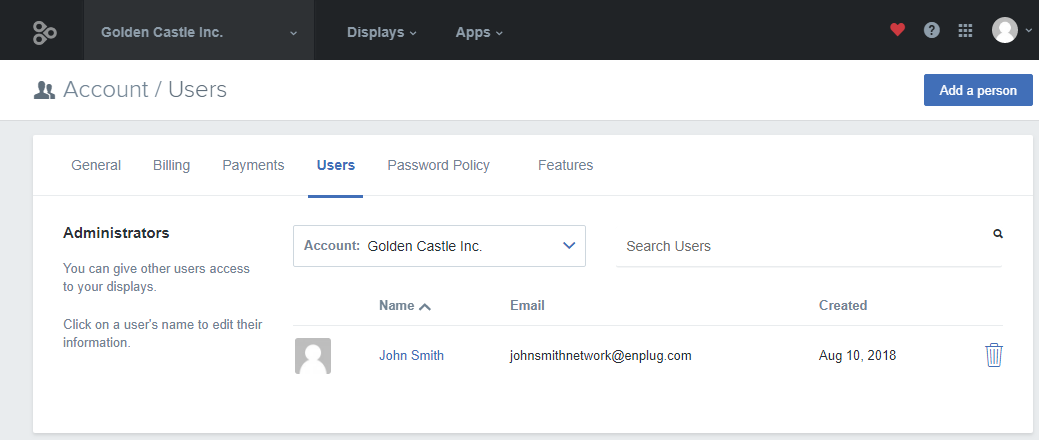 Click on the Add a Person blue button in the upper right corner to add a new user.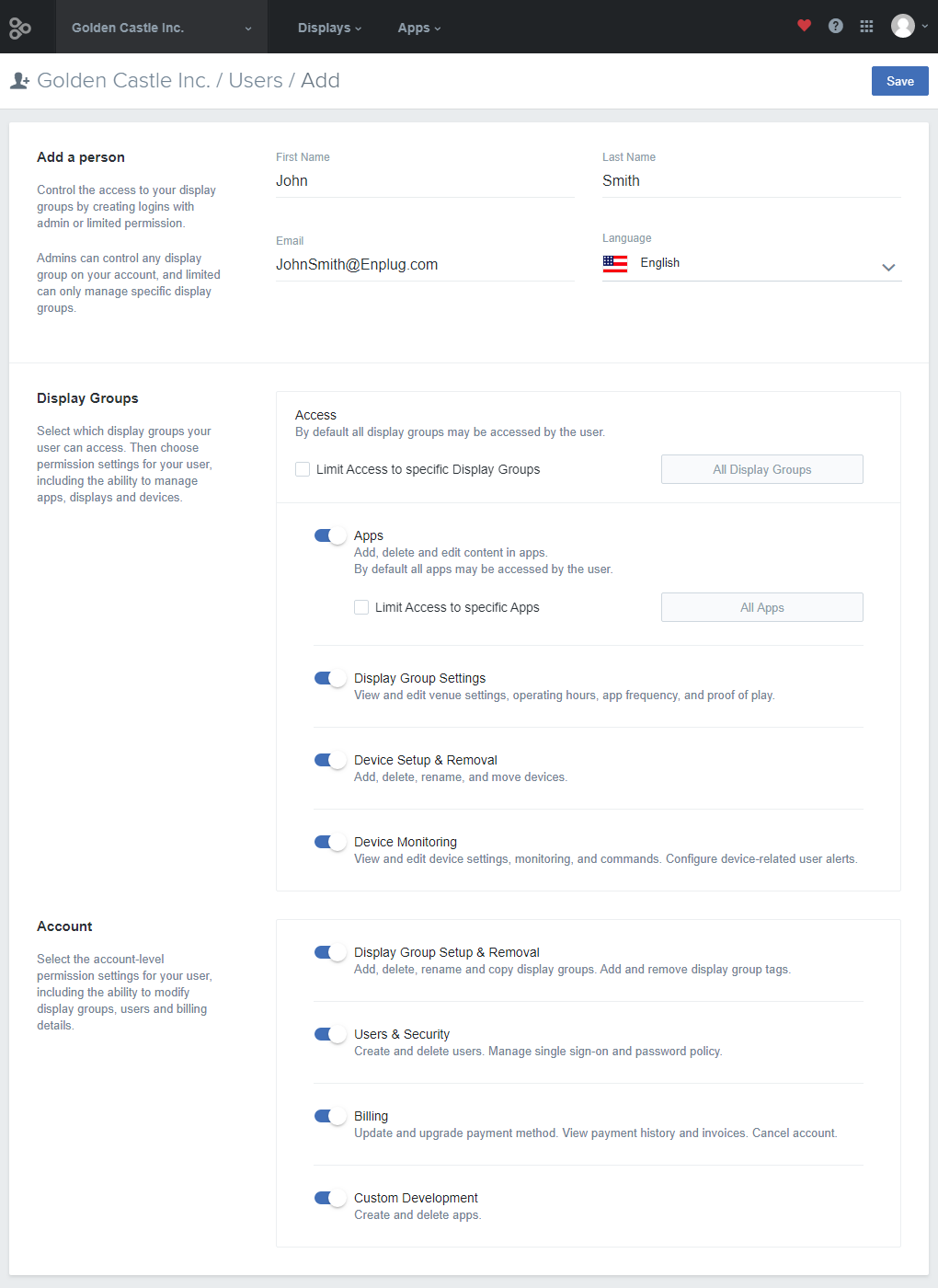 Enter the user's First Name, Last Name, Email, and Language.
When creating a new user, all Display Group and Account permissions will be enabled by default. You can disable or limit any permissions not necessary for a user. These can be broken down into 2 categories:
Display Group Permissions:
Access-

While off, the user cannot access the display groups.
The user can be assigned specific display groups by checking the box labeled "Limit Access to Specific Apps". A dialogue will open allowing you to assign access to any display groups.
Select the All Display Groups button to assign the user access to all display groups for your organization.
Apps-

While off, the users can't access apps.
While on, you can set access to individual apps by clicking All Apps and selecting the apps on the new window.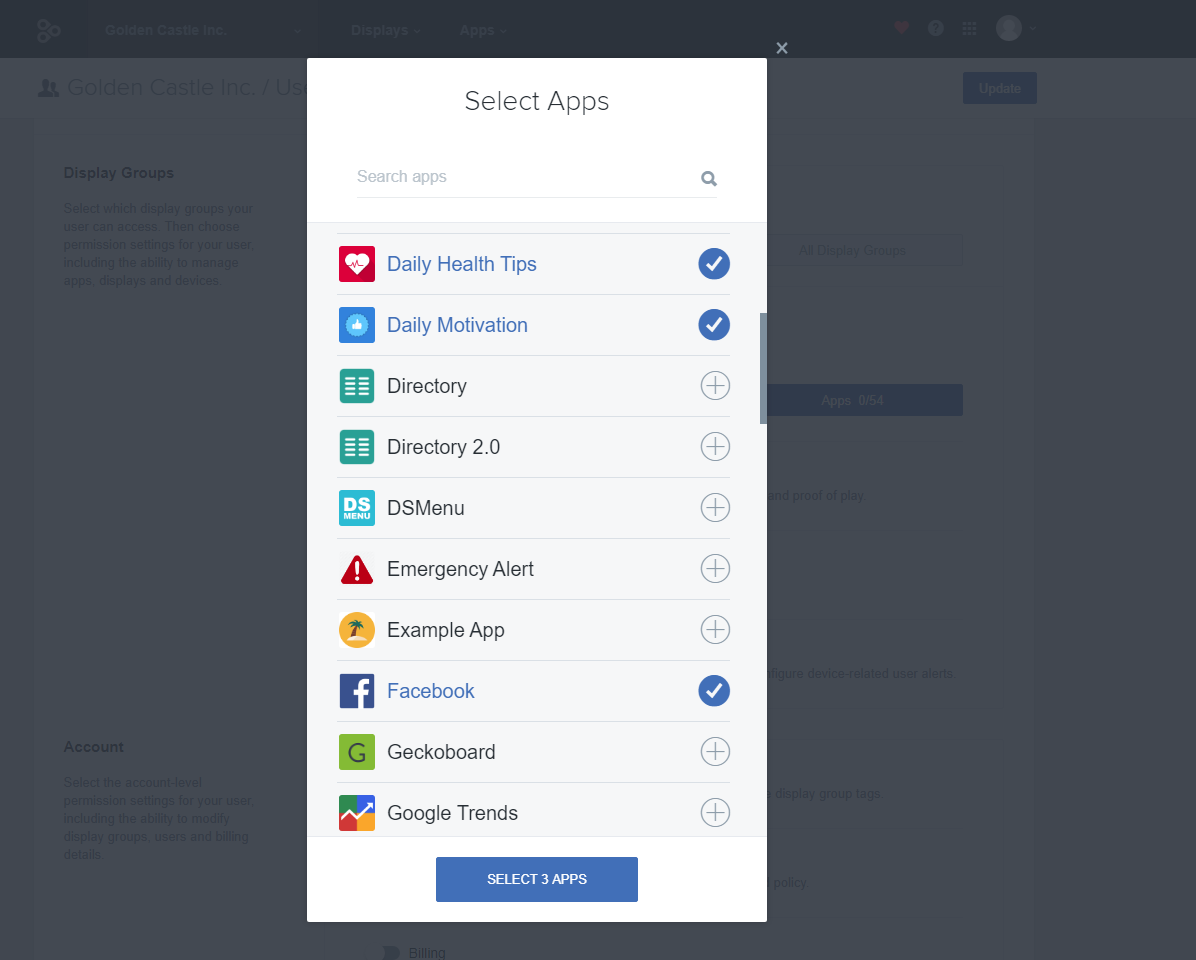 Display Group Settings-View and edit venue settings, operation hours, app frequency and proof of play.
Device Setup & Removal-Add, delete, rename, and move devices.
Device Monitoring-View and edit device settings, monitoring, and commands. Configure device-related user alerts.
Account Permissions:
Display Group Setup & Removal-Add, delete, rename and copy display groups. Add and remove display group tags.
Users & Security-Create and delete users. Manage a single sign-on and password policy.
Billing-Update and upgrade payment method. View payment history and invoices. Cancel account.
Custom Development-Create and delete apps.
After all changes, select Save or Update at the top of the page.