Overview
With the Enplug Webpage App, you can display any website on your Enplug-powered display. You can set up Webpage to show web content in two general ways. You can either display an existing website, or you can get creative and whip up your own concoction of HTML, Javascript and CSS to display anything you can imagine on your HD display. Let's get started!
To get started, click the Displays drop-down at the top of the dashboard and select the display you'd like to add the Webpage app to. Then, click the Apps drop-down to select the Webpage app.
Alternately, you can click the Apps drop-down to select the Webpage app directly. This will give you the Webpage Library view, where you can see all webpages for all your display groups. Click the Library dropdown to choose a specific display group. 
Contents of this guide:
Adding a website
To show an existing website on your display, follow the steps below. 
1. Click "Add Website" 
2. Enter the URL and a name for the webpage you'd like to add
3. Click "Save" when you're finished. You will be prompted to choose a display group to deploy this webpage to, as shown below: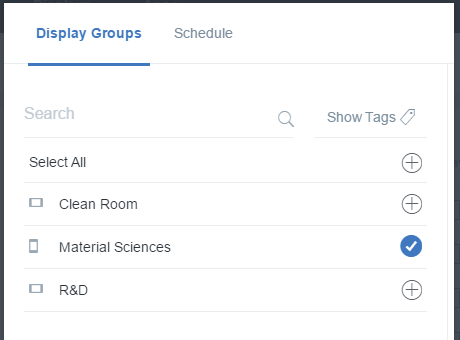 4. You can also adjust the scheduling settings from this screen. If you click on "Schedule" next to where it says Display Groups, you will be able to set the duration the site will be shown on screen as well as set times and days when the webpage will be displayed. In the example below, all of the scheduling features are turned on. If you don't use them then the webpage app will be active 24 hours a day.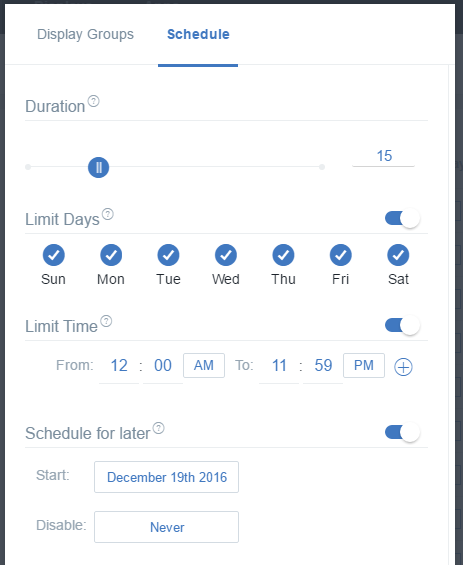 Once you save the display group settings, your display will show a full-screen rendering of the website you added. Along with any other apps you have enabled, it will play for about one minute before Enplug switches to another app. If you'd like to only display the Webpage app, simply disable all other apps in your app settings!

After saving, you will be redirected to your Webpage Library. This will show all your web pages in all locations, and how many display groups they are currently showing on. Click the TV icon under "Displays" to change which display groups your webpage is displayed on. 

Advanced Settings
Click "Show Advanced Settings" to customize the webpage app even further:
If your website is responsive, you can choose to display the mobile version of the website instead of the desktop version. Enplug will mimic the screen size of a mobile phone.
Include custom Javascript code, which will execute when the webpage loads. Check out example scripts for Salesforce and Bonfyre.
If your webpage requires a login, you can specify your username and password. Enplug will enter this information when the webpage loads. Custom Javascript is required to relay the username and password data to the website.
Suggested Website Integration
Here is a list of websites customers have successfully used in the Webpage app. Follow any available links for more information:
Office 365 Excel
Office 365 PowerPoint
Salesforce
Bonfyre
Klipfolio
Power BI