The Google Trends app is a simple, eye-catching way of displaying current trending Google searches. It's constantly updating, and will keep you up to date on the most recent trending topics. See an example directly in your browser by clicking this link: Preview Google Trends
Setting it Up
First, click the Apps dropdown, then the More Apps section to select the Google Trends app from the list of apps.

You'll see options for Rows and Columns: these determine how many rows and columns of topics show up on the screen.
You can also choose which region the app should pull search topics from. If you have international customers or visitors, we'd suggest selecting the "All" option. Alternately, you can choose a certain country or region that's most relevant to your venue.
Click the "Save" button to save your Google Trends feed. This will prompt you to choose which display group(s) to deploy this Google Trends setup to.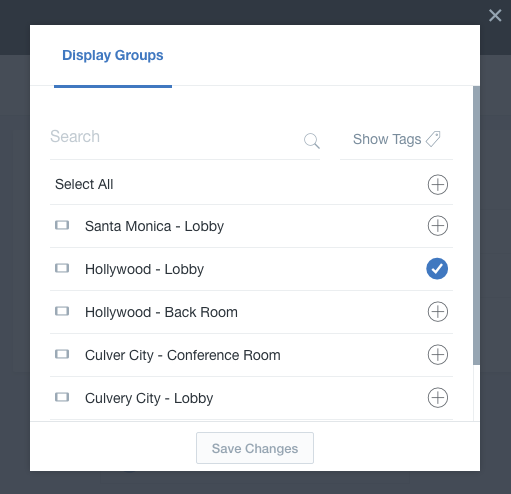 Once you've chosen your desired display groups, click "Save Changes" to deploy Google Trends to these screens. 
View and Edit
View and editing every Google Trends configuration in your account by using the Library dropdown. From the Library view, you'll see all existing Google Trends setups in your account. Click the dropdown and select a specific display group to see only the Google Trends setups for that display group. 

Click the TV icons under "Display Groups" to view and edit which display groups that configuration is currently showing on. Click the trash can icon to remove that configuration from your account.