Many of our customers want to display their KPI dashboards on their screens, but don't want to invest in a system like Salesforce or Geckoboard to do it. There is an easy alternative just using Google Sheets and the Enplug Webpage App.
To set up a system for automatically adding data to your Google Sheets, see our blog post in the Enplug Blog.
Once you have data or charts in a Google spreadsheet, you'll need to use the Webpage App to add the URL of the data or chart you want to add. 
To get this URL, you'll need to publish the desired chart or sheet to the web. If you're concerned about privacy, you can choose to just publish the chart (not the associated data), or only one sheet in the file. Click the arrow in the upper right corner of the chart, or if you're publishing an entire sheet, click File, then "Publish to the web".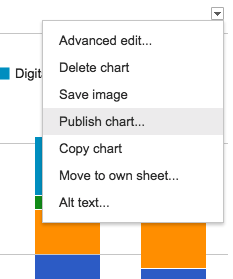 Once you've clicked this option, it will confirm you want to publish the selected sheet or chart, then provide you with a URL. This URL should be entered in the URL section of the Webpage App, as shown below:

If you need to resize the chart to fit the screen, you can use the "Show advanced settings" option to view the Text Scale option. This is a percentage; if you put it over 100 (200, for example), it will zoom further into the chart.