You can manage your display's operation hours using the Enplug Control display manager. This feature requires additional hardware. 
Requirements:
For Enplug devices only (ie. Not available for desktop or Google Play software users)
Need to use an Enplug Certified screen (*see below for a full list)
Connect a PL-2303 chipset USB<->RS-232 cable + Null Modem from your Enplug Certified screen to the Enplug device

The following components are verified as compatible:
- http://www.monoprice.com/Product?c_id=103&cp_id=10311&cs_id=1031104&p_id=3726&seq=1&format=2
- http://www.monoprice.com/Product?c_id=104&cp_id=10416&cs_id=1041603&p_id=1204&seq=1&format=2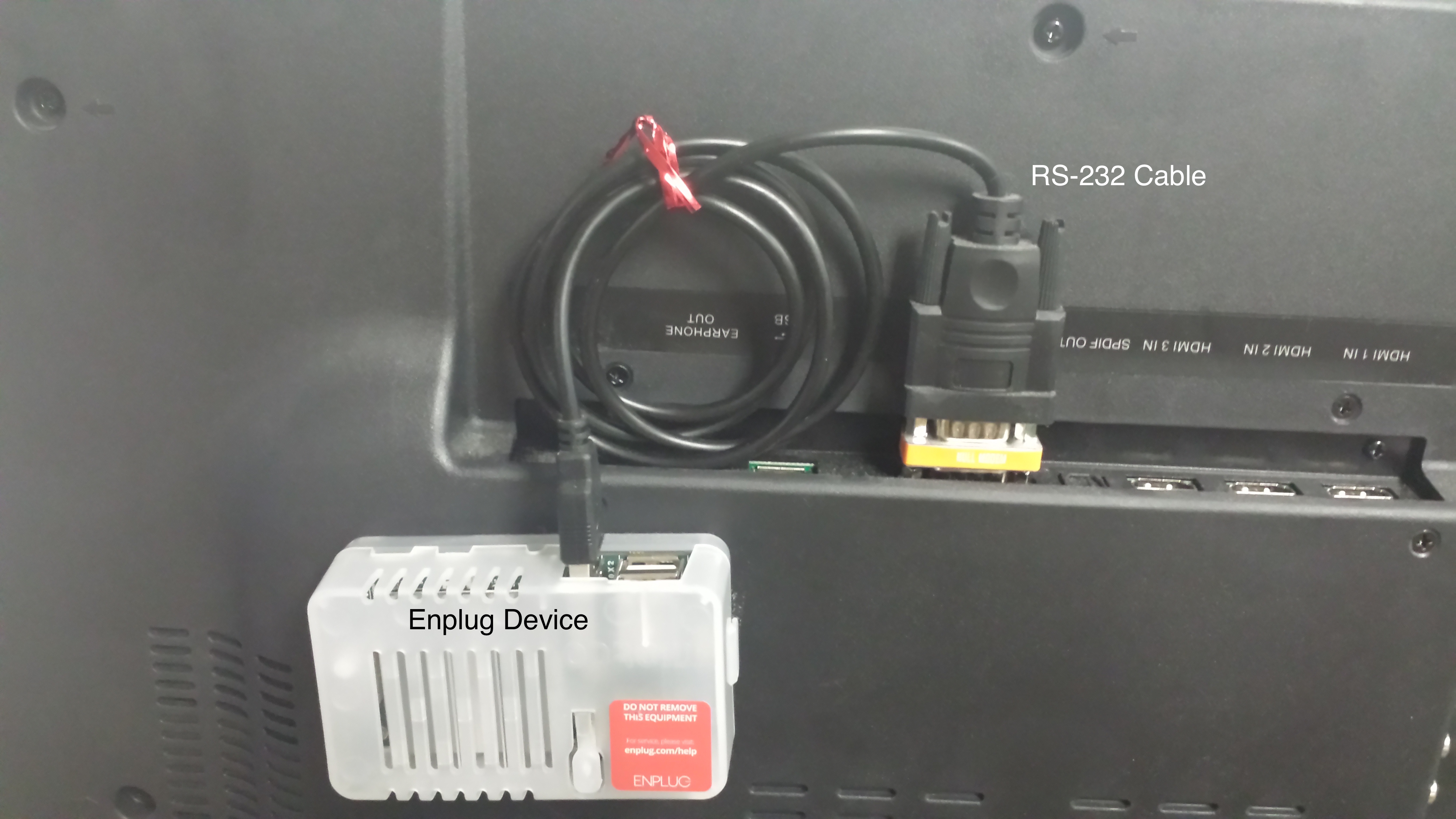 Once all requirements have been met, in your Enplug dashboard:
1. Navigate to the display group you'd like to edit using the Displays tab.
2. Scroll down to "Manage operations hours."
3. Click 'Save Hours'. Note: If your hours go past midnight, you will need to use splits. See below.
4. Go back to the display group settings page. Select the display you are setting up with RS232. Click "Enable RS232" checkbox. 
5. Select your TV model from the dropdown. 
See below for nuanced instructions for creating hours of operation that go past midnight.
Normal hours: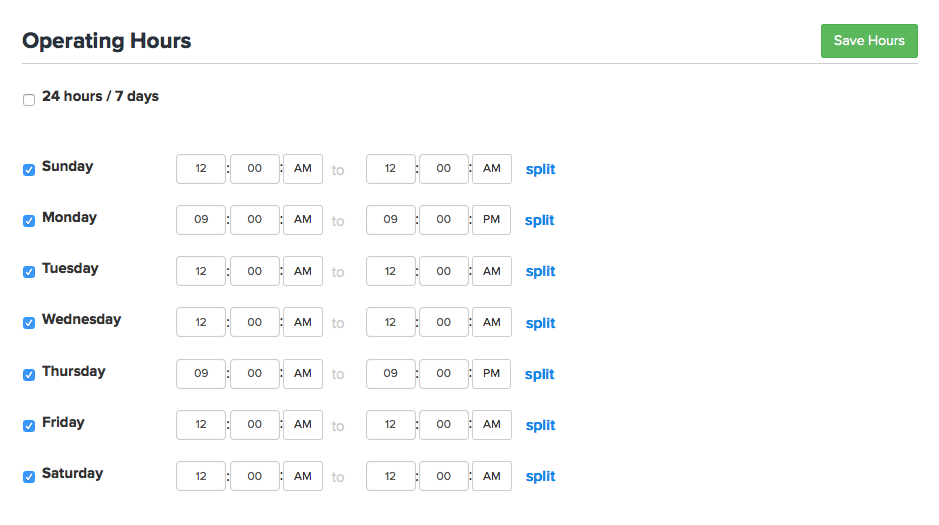 Hours past midnight:
Technically, all hours past midnight count as occurring on the following day. You will have to split them up so that the hours past midnight show up on the next day as "12am-(closing time)", then add the normal daytime hours as a split. This is shown below:
For the hours:
Monday: 5pm-11pm
Tuesday: 5pm-11:30pm
Wednesday: 5pm-11:30pm
Thursday: 5pm-2am
Friday: 5pm-2am
Saturday: 10am-2am
Sunday: 10am-11pm
They should be entered in the system as: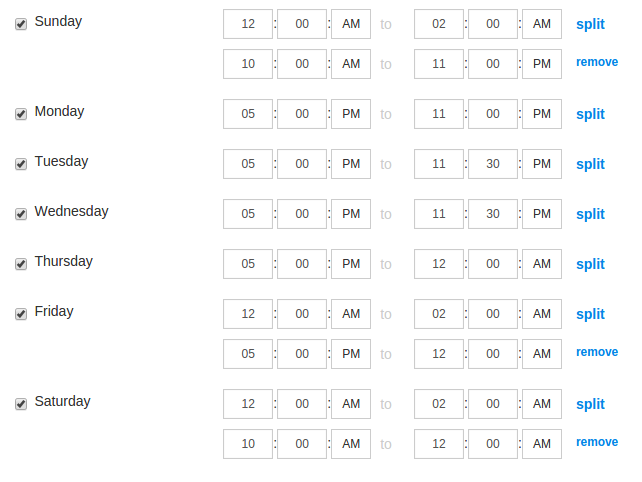 Congrats! Your display will now automatically turn on/off according to these hours. Contact Support if you have any questions!
*Full list of Enplug Certified screens:
Viewsonic 55"- CLED5500
Viewsonic 55"- CDP5537
Viewsonic 55"- CDP5560
Viewsonic 42"- VT4236-L
Viewsonic 42"- CDP4237-L
Viewsonic 42"- CDE4200-L
Viewsonic 42"- VT4200-L
Viewsonic 32"- CDE3200
Viewsonic 32"- VT3200
Viewsonic 24"- VT2406-L
Viewsonic Eposter 55"- EP5502
Viewsonic Eposter 42"- EP4220
LG 55"- 55LS460E
LG 55"- 55WL30MS
LG 55"- 55LS33A-5D
LG 47"- 47LN549E
LG 42"- 42LK451C
LG 42"- 42LN549E
LG 42"- 42WS50BS-B
LG 42"- 42WS50MS-B
Sharp 60"- LC-60LE632U
Sharp 60"- LC-60LE640U
Sharp 60"- LC-60LE633U
Samsung 55"- MD55-C