Billing
You can view your billing information and payment history at any time through the Enplug dashboard. To do so click your user drop-down in the upper right hand corner of the page. Then click the My Account button to view your account information. Navigate to the Billing tab once you are on this page.
Within the account view, click the Billing tab to see your current credit card information. In this section, you can edit your credit card information on file if needed.
If your associated credit card has:
expired
been cancelled
been declined by our system
needs to be changed for any reason
You can update it and make sure it's charged properly in this section of the dashboard.
If your credit card is declined, you will receive email notifications warning you of this. After 10 days, our system will re-try your credit card, and if it is declined again, your Enplug screens will be suspended.
Anyone on your team who is not a limited user can add a new credit card by clicking the "Edit Payment Option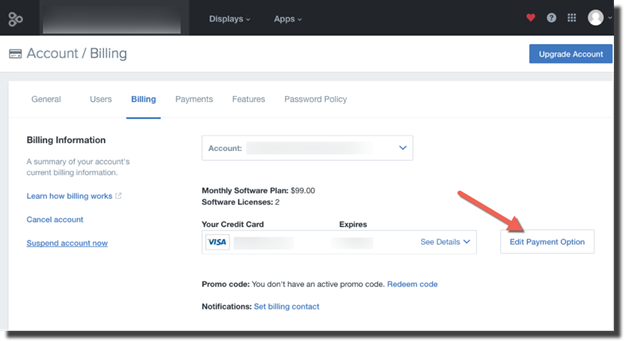 You also have the option to determine who will receive the payment notifications and receipts each month. On the billing tab you will see the Notifications section as displayed in the screenshot. If there is a contact already selected to receive these emails, you can edit this by clicking the change link.

If you have not selected a user to receive emails, you can set the billing contact by clicking on the link Set billing contact.

Cancel
If you wish to cancel or pause your account, please contact our support team with your request along with any feedback or suggestions you may have.
Reactivate
You can Reactivate your account at any time by logging in and returning to this billing section, and click the reactivate link at the top or bottom of the billing screen.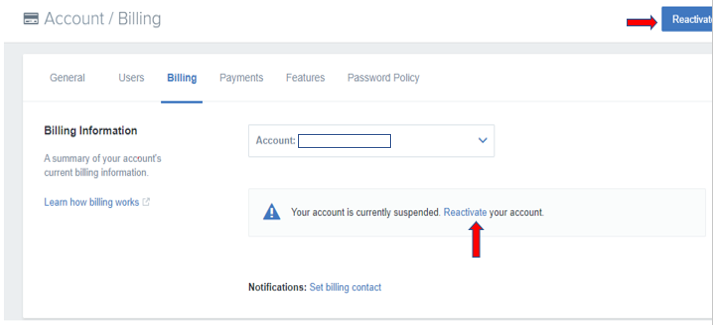 Payment History
You can view your payment history at any time by clicking the Payments tab next to the Billing tab in the Account section. In the payments section, you can see when your next payment is due, as well as all your past payments sorted by date, most recent to least recent.