Overview
If you're having trouble on the Enplug dashboard, such as pages not loading or error messages, try the basic troubleshooting steps below. If you continue to have trouble, there are two pieces of helpful data you can gather for our support team to review to troubleshoot the issue. Collect both items and
send them to our Support Team
for further review.
Contents of this Guide
Basic Troubleshooting Steps
1. Use a supported Browser. We recommend using Google
Chrome
and ensuring that it is
updated to the latest version
.
2. If you have already tried using Google Chrome, try opening the Enplug dashboard in an Incognito tab.
To the right of the address bar, tap More

>

New Incognito tab.
The Incognito icon

will appear in the top left of the new window.
3. If that doesn't work, clear your browser cache
At the top right, click More

> More tools > Clear browsing data.
Choose the All time range.
Check the cookies and other site data and Cached images and files options.
Click

Clear data.
If you're still having trouble, follow the steps below to gather information for our Support Team to review your issue.


Collect Files for Dashboard Troubleshooting
1. Download HAR File
To generate a HAR file, follow these steps:
Open Google Chrome.
At the top-right of your browser window, click More

> More tools > Developer Tools.
The Developer Tools window opens as a docked panel at the side or bottom of Chrome.
Click the Network tab.
Check Preserve log.
You will see a red circle at the top left of the Network tab. This means the capture has started. If the circle is black, click the black circle to start recording activity in your browser.
Log into the Enplug Dashboard and reproduce the issue.
After you successfully reproduce the issue, click on the Download button to export the HAR file.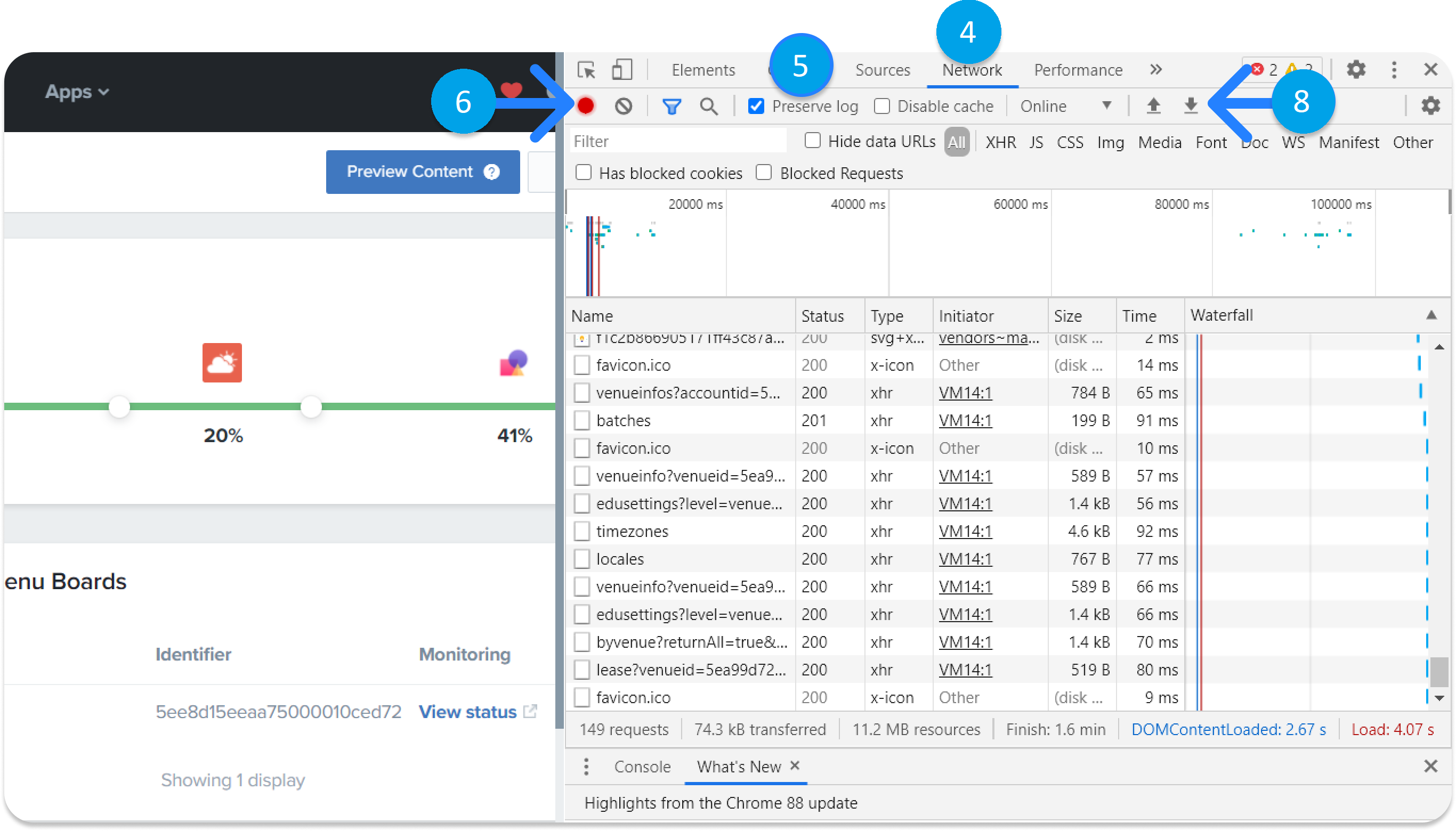 2. Collect Screenshots of Console Tab
The Console tab is also located in the Developer Tools you have open from the previous steps.
Click on the Console tab in the Developer Tools.
Take screenshots of any error messages shown on the screen (in red). If you have many errors, you may need to scroll down and capture multiple screenshots.